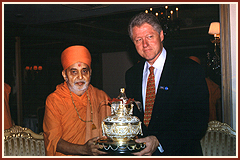 President Clinton is delighted to receive
the 'Amrut Kalash' - Symbol of Auspiciousness from
Pramukh Swami Maharaj
Download high resolution file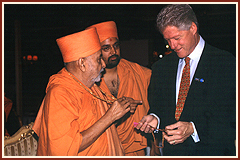 President Clinton marvels at the rosary presented to him by Swamishri. He is impressed by Swamishri's faith in the power of prayer to promote world peace
Download high resolution file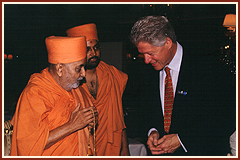 A humble farewell - President Clinton respectfully bows to Pramukh Swami Maharaj
Download high resolution file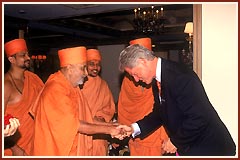 The President bids a warm farewell to Pramukh Swami Maharaj
Download high resolution file


"UNREST IN ANY PART OF THE WORLD IS LIKE AN INJURY TO OUR BODY - PAINFUL!"
His Holiness Pramukh Swami Maharaj said in a dialogue with President Clinton
Miami, October 4
To emphasize this message of world peace, Pramukh Swami Maharaj met the President of the United States of America, Bill Clinton.

His Holiness Pramukh Swami Maharaj, the spiritual leader of the worldwide socio-spiritual organization, Bochasanwasi Shree Akshar Purushottam Swaminarayan Sanstha (BAPS), is highly respected in the Hindu faith for his saintliness and his efforts to promote world peace. In the recently held "Millennium World Peace Summit" at the United Nations in New York, Pramukh Swami Maharaj's message gave fresh hope for all seekers of peace and harmony in the world.

The President was in Miami on official business. Swamishri was also in Miami to lay the foundation stone for a new BAPS Swaminarayan Mandir.

This historic meeting took place on Wednesday, October 4, 2000 at the Biltmore Hotel in Miami, Florida, where the two prominent leaders greeted each other warmly. The President was informed of Lord Swaminarayan's life and work and given details of numerous humanitarian, spiritual, cultural, educational, environmental and medical activities conducted worldwide by BAPS under the leadership of Pramukh Swami Maharaj.

The President was very impressed by the scope and depth of the activities of BAPS and the virtuous personality of Pramukh Swami Maharaj.

During their discussion about world peace, Pramukh Swami Maharaj said, "Our body represents the whole world. If any part of our body is injured, it causes pain all over the body. Similarly, if there is violent activity in any corner of the world, it causes pain everywhere and leads to difficulties. To prevent such unrest, we chant the rosary and pray to God. And if politicians and diplomats, like yourself, meet to seek initiatives then peace will be established in the world."

With this, Pramukh Swami Maharaj blessed the President that his attempts to restore peace in the Middle East be successful.

Grateful to receive Pramukh Swami Maharaj's blessings, the President said, "I am deeply honored and happy that You Holiness has visited our country. I spend most of my time resolving differences between people. In this way, our work is similar! I pray for your wisdom in guiding us towards peace and happiness."

Pramukh Swami Maharaj then presented the President with an "Amrut Kalash" - a decorative, golden urn symbolizing the auspiciousness of Indian culture - and a rosary, which the President touched to his heart in reverence.

At the conclusion of the meeting, President Clinton bowed in respect to Pramukh Swami Maharaj.