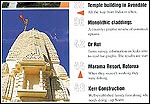 At the end of a cul-de-sac in the heart of industrial Avondale in Auckland' s western suburbs, an exotic, ornate building towers over its warehouse neighbours in both height and style. Alice Shopland went to take a look.
The first New Zealand temple of the Swaminarayan sect of the Hindu religion is due for completion at the end of April. but it's already had its official opening. The
international leader of the sect. 81-year-old Pramukh Swami Maharaj, was here in mid-February to consecrate the $7m, 2,500m2 building, whose full title is the Shri Swaminarayan Mandir and Cultural Complex.
More than 1500 devotees from New Zealand and overseas celebrated the opening. The sect has a million devotees worldwide, and the Avondale temple is the 416th Swami Maharaj has consecrated. During the opening ceremony, marble deities were installed in the prayer room, surrounded by an elaborate gold altar of fibreglass cast in India and assembled on-site. Blessed by Swami Maharaj, the statues are now considered to contain the spirits of the deities they represent. They are offered food and drink three times a day, and their embroidered garments are changed daily.
The extensive decorations adorning the concrete shell designed by Tse Group and built by Ebert Construction are of fibreglass-reinforced concrete. They were cast in India from sandstone originals using a rubber mould, and shipped here in their hundreds. The temple is being painted pale pink, in imitation of the original sandstone.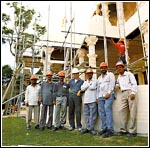 Unfortunately many of the pieces suffered in transit, and the six craftsmen who came from India for the task worked feverishly to mend pieces and to plaster the ornate exterior of the seven domes. They worked from dawn to dusk every day except on the day of the new moon. Ebert contractors also worked long hours to ensure the temple was as complete as it could possibly be by opening day.
Each window frame consists of eight separate pieces of cast concrete. The window heads alone weigh some 350kg apiece. All of the decorative elements are attached to the building by stainless steel dowels. Les Honeyfield, Ebert site manager for the project, estimates that fixing all the pieces over the whole building will use more than two kilometres of stainless steel rod - each window head, for example, requires six rods to be absolutely certain it's not going to succumb to gravity. Similarly, each pillar comprises about 10 elements, each of which comes in two halves to be reunited around the reinforced core required by local building standards.
The towering main dome on the roof of the structure was bulked up by layering 1000 bricks and 500 paving slabs in with the plaster. The interior of the dome, in the ceiling of the prayer room, is of cast fibreglass which required 30 litres of bonding to make it good, according to Les Honeyfield.

Before taking the decision to build, the group looked at local warehouses and churches which were for sale, but they all needed so much alteration to meet the sect's needs and planning requirements, that it made sense to start afresh.
'Usually our temples start in an existing building, then we sell that and build a purpose-built temple," says Navan Patel, a coordinator for the group, which had previously met in people's homes and in hired school halls. "We were lucky to be able to skip that step."
So now, instead of renting space from other groups, the sect is able to rent out its own large first- floor meeting room - complete with sprung-floored stage, control rooms and quality light and sound systems - to community groups. so long as they meet the religious requirements such as no smoking, alcohol or meat.
This is the first time the sect has used cast concrete to decorate a temple - but there are temples overseas with fibreglass decorations, including a massive 9,300m2 temple opened in Chicago two years ago. A Swaminarayan temple in Kenya is decorated inside and out with solid teak, including the inside of the dome. The sect's London temple is all of stone: Italian marble inside and Bulgarian sandstone outside. Both stones were shipped to India for carving, then shipped to London in 26,300 pieces.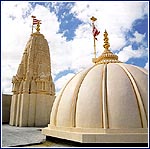 The Avondale temple doesn't quite reach these proportions, yet its impressive commercial (and strictly vegetarian) kitchen is designed to cater for up to 3000 people at a time - when Progressive Building visited, several vast pots more than a metre across were being used to cook rice and lentil soup. This is such a serious kitchen that the waste disposal has a three-phase motor.
The carved solid teak doors - there are several pairs on the ground floor and the first floor - each took three months to carve. They were installed just before the official opening, and caused some interesting hardware challenges because of their weight and because their precise form wasn't known until they arrived.
'In India they work in imperial measurements," Honeyfield says, "and there have been a few mistakes in conversion. It's kept it interesting for everybody!"
Ebert had to wait for the shikhar, the nine-metre-tall top section of the altar which stands above the roof and is visible from quite a distance, to arrive before plastering the prayer room ceiling.
"It weighs 55 tonnes, and it deflected the ceiling by 60mm. It would have cracked the plaster if we'd done that first."
In many respects it sounds as though it could have been a nightmare job for Honeyfield, but he's calm even just before opening day, and says the clients have all been very easy and helpful to deal with.
One day at a time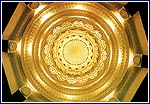 By all accounts, local input into the designing and building of an 'authentic' Hindu temple in Auckland has helped make it a success, but not without a few small hiccups.
One was a shortage of critical design information, which kept the designer of the structure (TSE Group) and the main contractor (Ebert Construction) wondering what might be coming next.
The concrete block structural shell of the temple, for instance, was designed and built without full details of many of the precast design elements the client wanted to include in the finished temple.
"The precast components were either still being made in India, or on the water," says Ebert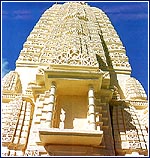 Construction site manager Les Honeyfield. "No-one here knew quite what to expect, so we just got on and did what we thought would work best."
The team was advised, for example, to expect a dome and decorative concrete elements for the outside of the building. But exact information wasn't available. It was a matter of wait and see, and then redesigning and reconstructing the building where necessary.
Elements such as the all-important decorative columns were also handled differently. "In India they are left unreinforced," says Les. "They tell me no temple has yet fallen down, but here they need to be reinforced - not so much to support the building but just to support themselves. So we've put an RHS beam inside each column and tied the column sections to it."
The columns and window surrounds presented another unforseen challenge when they arrived on site.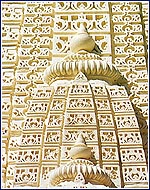 These components are cast in India, in a rubber mould taken from sandstone originals. But to retain their shape the moulds must be well-supported during casting. Many of the finished elements, when unpacked from their shipping containers, were found to have twists or winds, which made it difficult to line them up on the building. Fortunately, the temple tradesmen who were flown in from India to assist with the detailing, were adept at smoothing out visual discrepancies by hand.
While the exterior block walls of the temple were rendered by an Auckland plasterer (Ali's Plastering) with standard cement render, up to 14 additional tonnes of cement were used by the temple tradesmen to replaster the domes and build up the decorative elements where they thought it was needed. The temple tradesmen prefer a very rich and dry plaster and like to build up an area and then scrape it away again until it is the right shape.
Most shaping is done by eye. but when making a moulded, curved balustrade railing, a template was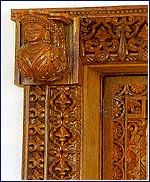 used to create a rough decorative proñle. The handrail was made on the ground - at its core a 12mm reinforcing rod embedded in a layer of concrete. It was first plastered and shaped by the curved plywood profile to get an approximate look. A veiny rich cement/lime slurry was then skim coated over the top to give it a hand-finished look. After it had cured it was carried upstairs, cut to length and fixed to the decorative balusters.
For Les Honeyfield, watching the temple tradesmen do things the Indian way was half the fun of it. "I've really enjoyed this project," he says, "and I've got a lot of admiration for their skills. But I've suggested a number of things to the client which could streamline the building of future temples. I think it would work better if all the wall elements were on site before the project starts (that way you can see what you are dealing with) and if tilt panel construction was used instead of concrete block construction. This would allow the decorative wall elements - and there are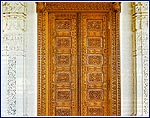 a lot - to be cast insitu as part of the wall.
"Also. I don't know what precast elements cost to produce in India, but it may be more efficient to supply moulds to the local contractor and let the casting be done on location. This would reduce transport costs and transit damage, and give the contractor the opportunity to cast extra elements if and when they are needed."
In making these practical and helpful suggestions, isn't Les Honeyfield in danger of being offered a job as an international temple project manager?
He laughs it off. "Yeah, right, I don't know how well that idea would go down with my wife."