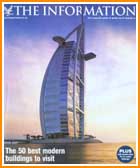 In its special 18-24 october 2003, issue of 'The Information' magazine 'The Independent' newspaper in UK published a world wide list of the 50 Best Modern Buildings to visit.
Shri Swaminarayan Mandir, Neasden - inspired by Pramukh Swami Maharaj - is ranked second in the list. The magazine says, "It's difficult to imagine, but the northwest London suburb of Neasden is home to the boldest ecclesiastical building erected in Britain since the Middle Ages."
Also included in this distinguished list are:
The London Eye; The Burj Al Arab, Dubai;
Thermal Spa, Vals, Switzerland; Tate Modern, London; REICHSTAG, Germany; The National Museum of Australia; Roden Crater, Arizona, USA; Chikatsu Asuka Historical Museum, Japan; National Space Centre, Leicester; Millennium Dome, London; etc.
The list of 50 is comprised of the ten best in each of the following five categories. Commercial, Religious Buildings, Worldly Wonders, Tourism/Arts, Museums/Galleries.
In the Religious Buildings category the Shri Swaminarayan Mandir, Neasden, is ranked first.