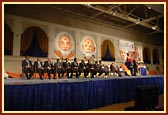 Rt. Hon. Charles Kennedy MP addresses the gathering with the representatives of the various affected nations present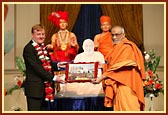 Atmaswarup Swami presents a photographic momento of BAPS Shri Swaminarayan Mandir, Neasden to Rt. Hon. Charles Kennedy MP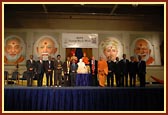 (left to right)
Mr AP Patel, Trustee SHM;
Dr IP Patel, MBE, Trustee SHM;
Mr Premaratne, Minister Counsellor from The High Commission of Sri Lanka;
Mr Ramli Sau'ud, Minister Counsellor from The Embassy of the Republic of Indonesia;
Lord Dholakia;
Dr Md. Saiful Amin Khan, Deputy High Commissioner from The People's Republic of Bangladesh;
Murtis of Akshar Purushottam Maharaj and His Divine Holiness Pramukh Swami Maharaj;
Rt. Hon. Charles Kennedy MP;
Sadhu Atmaswarupdas;
H. E. Mr Vikrom Koompirochana, The Ambassador from The Royal Thai Embassy;
H. E. Mr Hassan Sobir, The High Commissioner of the Republic of Maldives;
Mr Zainal Abidin Ahmad, Deputy High Commissioner for Malaysia;
Mr Ye Min Tum, 2nd Secretary from The Embassy of the Union of Myanmar;
Mr Vinu Bhattessa, Trustee SHM
Rt. Hon. Charles Kennedy MP, Leader of the Liberal Democrats joined a host of distinguished guests at BAPS Shri Swaminarayan Hindu Temple on 19th February 2005 where the main purpose of the gathering was to present funds collected through the BAPS TSUNAMI APPEAL to the eight Ambassadors of countries that were affected by the Tsunami.
Atmaswarup Swami, Head of the Mandir, greeted him in the traditional Hindu manner by tying a Nada-chhadi (red sacred string) on his right wrist and applying a chandlo (red dot) on his forehead as a mark of friendship. Following this he was given a guided tour of Europe's largest traditional Hindu Mandir. Charles Kennedy joined devotees for the aarti and joined Pujya Atmaswarup Swami in offering abhishek to Bhagwan, Shri Nilkanth Varni.
A special programme commenced shortly after 8pm inside the Haveli Prayer Hall in front of 2000 people. Pujya Atmaswarup Swami garlanded the Rt. Hon. Charles Kennedy MP and Lord Dholakia. Officials and dignitaries from the various countries affected by the Tsunami disaster were also welcomed with bouquets and joined Mr Kennedy for this evening dedicated to the BAPS Tsunami fundraising efforts.
In his welcome address, Pujya Atmaswarup Swami, spoke of the inspiration of His Holiness Pramukh Swami Maharaj, the Spiritual Leader of BAPS Swaminarayan Sanstha in creating this Mandir and gifting it to the peoples of Europe.
Hitan Mehta, a co-ordinator of the BAPS TSUNAMI APPEAL then gave a short presentation detailing both the fund raising efforts and how 150 volunteers of BAPS Swaminarayan Sanstha are engaged in humanitarian work in 51 villages of Tamil Nadu, Pondicherry, Andaman & Nicobar Islands. The BAPS volunteer force includes doctors, nurses, counsellors and other professionals. Apart from emotional counselling provided to thousands, BAPS Tsunami Relief Work in India is summarised as: 174,000 hotmeals in 37 days, 6,000 homeless families provided essential household goods, 12,000 school kits distributed, 1,708 children & adults medically treated, 200,000 tablets & 8,000 injections provided for treatment. Outside of India, BAPS Care International has in partnership with CitiHope International, World Children's Fund and International Relief Foundation provided $7 million worth of medicines from USA in Sri Lanka.
BAPS work has been recognised by one and all. In the USA, BAPS Care International has been given "Certificate of Special Congressional Recognition, for Outstanding Tsunami Relief Efforts".
The Lieutenant Governor of the Andaman and Nocobar Islands, Dr. Ram Kapse said "I place on record my sincere appreciation of the work done by BAPS volunteers…. and thank the Sanstha for sending volunteers to the islands in this hour of need".
Similarly, Fazaludeen Aditha Begum, a housewife from the village of Kottakuppam, said "You have given us life again by giving us these items. Your concern has deeply touched our hearts. We cannot forget what you have done for us".
J. Moses, CEO Chardep NGO, Nagercoil, Dist. Kannyakumari, said: "BAPS is a noble organisation that serves people irrespective of caste, class, creed, community or religion".
Srinivasan, Village Leader of Nemmeli Kuppam, expressed: "We were on the road with nothing. You (BAPS) gave us life. You looked after us like a mother looks after her child."
Hitan concluded by stating that Phase 1 was now complete and BAPS was now undertaking the Phase 2 of rehabilitation and re-housing subject to Government policy and permissions.
While BAPS, India continues through its volunteers to provide Social, Education, Medical and Economical Rehabilitation in Tamil Nadu, Pondicherry, Andaman & Nicobar, an NGO will build orphanage in Sri Lanka through donation by BAPS.
Through the efforts of the community, the BAPS Tsunami Appeal in the UK raised over £500,000. Donation cheques on behalf of the BAPS Swaminarayan Mandir were then presented to six diplomatic representatives of Indonesia, Sri Lanka, Thailand, Maldives, Malaysia, Myanmar and Bangladesh, to help them continue Relief & Rehabilitation in those countries.
Mr Premratne, Minister Counsellor from the High Commission of Sri Lanka thanked BAPS Swaminarayan Sanstha for their humanitarian efforts and said "We are happy to note that the fruition of the Appeal, Sri Lanka has benefited largely, more than other countries, as BAPS has already delivered us $7 million worth of medicines to be given to those in the North and the East"
Mr Kennedy in his speech said "… As I was being shown around this magnificent set of buildings it was pointed out to me that at the heart of this Temple was the concept of service. You cannot help but feel utterly inspired when you cross the threshold and are welcomed amongst you as you have welcomed my wife Sarah and myself this evening. And I think that what you stand as a beacon for, in this community and in our country, the concept of service is something that should be very important all of us in politics…I genuinely believe and I welcome and celebrate the fact that the Britain that I have been brought up in and live in and try to serve today, that Britain is more diverse, it is more enriched, it is better in every sense of the word, precisely because it is a multi faith, a multi racial diverse society… I will go away inspired by what I have seen and what I have heard this evening; determined not to talk negatively about people from other political persuasions, but to talk positively and optimistically about our country and about what can and should be achieved."
Before departing Rt. Hon. Charles Kennedy was presented with a memento and joined guests for a sumptuous vegetarian meal.
Also present during the evening were Mrs. Sarah Kennedy, Lady Dholakia, Sarah Teather MP and Sarah Ludford MEP.