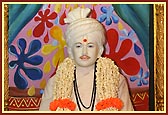 Bhagatji Maharaj
The celebrations of Bhagatji Maharaj's Birth Anniversary were enjoyed at BAPS Shri Swaminarayan Mandir, Neasden on Saturday 26 March 2005 with a splendid festival conducted by balaks, kishores, yuvaks and sadhus. Entitled 'Mãgo Mãgo Bhagatji Aaj', this kirtan set the platform for the festival where dances, dramas and speeches depicting the virtues and life of Bhagatji Maharaj were presented.
Fuldol, the festival of flowers and colour was also marked on the evening when the samuha prarthna, 'Mahãbalavant Mãya Tamari', reverberated across the sabha hall.
In conclusion, Atmaswarup Swami illustrated the life of Bhagatji Maharaj with a presentation on his qualities. The journey through the life of Bhagatji Maharaj was illustrated with the narration of his remarkable qualities, notably of service, tolerance as well as devotion to God and Guru.