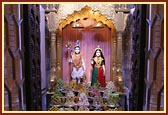 Annakut placed before
Shri Shiv and Parvatiji

On Tuesday 8th March 2005, the auspicious festival of 'Maha-Shivratri' was celebrated in a grand way at the BAPS Shri Swaminarayan Mandir in Neasden. Over 60 'falahar' items were offered as part of an annakut to the sacred images of Shiv and Parvati.
A grand abhishek of the Shivaling was performed with Vedic chanting by the sadhus. Thousands of devotees had darshan of the ice Shivaling and were given the opportunity to perform the abhishek with milk and bilipatras of the Shivaling guided by priests. The High Commisioner from Mauritius also joined the celebrations. In the evening, a sabha extolling the importance of the occasion was held.

Ice Shivaling in the Haveli foyer for darshan
Devotees offering their devotion by performing abhishek
of the Shivling with milk and bilipatras