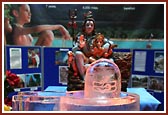 Ice Shivaling in the
Haveli foyer for darshan
Sunday 26 February 2006 marked the celebration of 'Maha-Shivratri' at the BAPS Shri Swaminarayan Mandir in Neasden, London. The day began with the sacred abhishek of the Shivalinga amidst the chanting of Shiva Mahima Stotram by the sadhus. Every visiting devotee offered billi-patra on the Shivalinga; rudrabhishek was performed with pouring of holy water and milk in which the sacred rivers of Ganga, Jamuna, Saraswati, Godavari, Kaveri, etc. were invoked. The atmosphere rang with divine chants from the Vedas.
Throughout the day, devotees had the opportunity of Annakut darshan in which a colourful variety of 'falahar' items was offered at the shrines of Ghanshyam Maharaj and Shiv-Parvati.
The ice Shivalinga on display at the entrance was a great attraction, evoking memories of Amarnath in India where a natural ice Shivalinga exists.
In the special assembly held in the evening, the significance of Shivratri was explained in the discourses along with the singing of bhajans. Tony McNulty, MP for Harrow East and Minister of State for Immigration, Citizenship and Nationality joined the celebrations and also addressed the august gathering. Before leaving, each visitor was given prasad and a special pocket calendar.