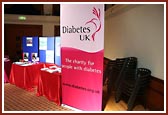 In keeping with the national Heart and Diabetes Awareness Week, the Akshar Health Committee hosted a series of ethnic-specific seminars and screenings. A whole host of volunteer medical professionals were on call to offer their advice.

Exhibitors included the Diabetes UK, The British Heart Foundation, Surya Foundation (Health & Fitness – Yoga) and professionals from the fields of Optometry, Podiatry, Pharmacy, and Dieticians.

The seminars proved very popular with visitors, the first of which was on dietary modifications. Dieticians Salma Butt and Nosheen Sheik were on hand to give ethnic-specific advice related to diabetes and heart disease. The second run by Dr Kalpesh Besherdas was on managing diabetes. Dr Deven Patel conducted the third seminar on Cardiology, focusing specifically on recognising the early symptoms of heart disease. The final session of the day was a plenary, chaired by Dr Bharat Patel and supported by key health professionals involved in the management of diabetic and cardiac patients. This was a question and answer session, providing an excellent opportunity for the participants to ask questions and gain an insight into their condition.

The BAPS Akshar Health Committee was extremely pleased with the numbers who attended the various screenings. Visitors were screened for Blood Pressure, Blood Glucose and BMI. Patients were also advised on medicines management. In total, 202 people were screened and some 10% of those had abnormal results which would require visiting their GPs for further follow-up. Mr K Meru was in charge of delivering Basic Life Support skills and over 30 people underwent training in CPR techniques.

Jean Gaffin, Chair of Brent PCT, was very impressed with the dedication of the volunteers. She commented that she had not seen such a positive response amongst the Asian community whenever similar seminars were held by Brent PCT.