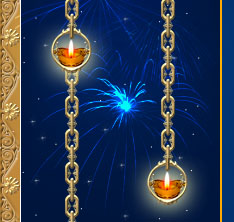 In the presence of Pramukh Swami Maharaj, the Diwali festival was celebrated with great enthusiasm at BAPS Shri Swaminarayan Mandir, London on Saturday 21 October 2006. Swamishri arrived at the Mandir for his morning darshan of the murtis lit with lamps, and then proceeded to the Haveli for pooja.
Following the pooja darshan, Swamishri expressed his wish to offer his blessings on this auspicious occasion. Swamishri talked of removing the darkness of ignorance in our lives and becoming permanently enlightened with the gnan of Atma & Parmatma through the association of the Gunatit Satpurush.
Throughout the morning and afternoon streams of devotees and visitors arrived beholding the majestic murtis adorned with rich clothes and ornaments. Following the Sandhya Arti at 6:30 p.m., the sadhus commenced the Chopda Poojan ceremony, where business owners close their accounts and open new accounts on this auspicious day. Hundreds of new account books were sanctified by Pramukh Swami Maharaj with the showering of flower petals and rice grains, amidst the chanting of vedic hymns and prayers to Bhagwan Swaminarayan.
A short evening sabha was held following the Chopda Poojan ceremony in which Viveksagar Swami explained the significance of the festival. In his blessings, Swamishri spoke of the importance of devotion to God who has provided us with the wealth. Swamishri also emphasised that inner peace cannot be attained through mere materialistic possessions but only through Satsang.

Diwali is the 'festival of lights' and a fitting exhibition of this festival was provided with a grand fireworks display that lit the skies of North London with a thirty-minute performance. Countless spectators, including local residents and passers-by were awestruck by the light and beauty of Indian culture with a crescendo of sound and colour providing a fitting climax. As the crowds dispersed, the preparations for the following day's Annakut programme began in earnest.