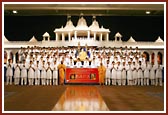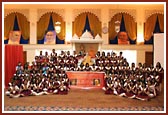 Celebrating 100 Years; BAPS – Be A Perfect Student
With the blessings and inspiration of Pramukh Swami Maharaj, the third National Kishore-Kishori Vidyarthi Shibir, "Celebrating 100 Years; BAPS – Be A Perfect Student", was held at BAPS Shri Swaminarayan Mandir, Neasden from 28th to 30th December 2006. This year's programme enlightened minds and hearts, whilst emphasising a balance between Satsang and Studies as well as charging students with motivation to achieve success spiritually and academically. Each session was interactive, entailing a group activity as well as a feedback meeting which assisted each participant to develop their own time-management, communication, leadership and team-working skills.

Alongside the sessions, the Shibir also emphasised the importance of personal Satsang development. Aside from performing daily arti, thal and cheshta, participants also learnt to do mansi pooja, pranayam and yogasan. They also had the opportunity to clean the Mandir kitchens, stores, gym, toilets and showers as well as perform other seva. A series of presentations highlighted the qualities of a perfect student, citing examples from the lives of Bhagwan Swaminarayan and the Guru Parampara. A light-hearted and humorous discussion of Swamishri's prasangs proved him to be the 'Ideal Friend'. On the final day, an in-depth question and answer session with the sadhus was highly appreciated by all.

Keeping in line with learning new skills at the Shibir, Friday evening saw all the kishore and kishoris developing their golf skills in turn. Throughout the Shibir, sadhus as well as trained kishore and kishori karyakars offered their guidance to kishore and kishoris in essential skills, such as building their education, careers, as well as consolidating their Satsang. Overall, the programme proved a great success as participants departed with a renewed confidence and enhanced abilities which will undoubtedly propel them to greater heights in their education as well as their personal Satsang.