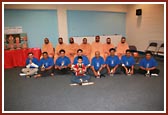 Winners Harrow A with their winning trophy and medals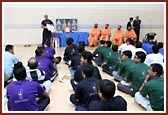 One of the organisers – Harish Patel reads out the rules

On Sunday 29 April 2007, the Yogi Yuvak Cup National 8-a-side Indoor Cricket tournament took place. Teams flooded in with a glimmer of hope of lifting the prized trophy. The venues were the Harrow Leisure Centre and the BAPS Shri Swaminarayan Mandir gym. The tournament started in traditional fashion with 'deep-pragatya'. The order of play was announced and the teams took to their positions. Yogiji Maharaj's message of Samp, Suhradbhav and Ekta was clearly evident throughout the day.
The standard of cricket keeps improving each year and this was apparent with some excellent display by all the teams. This was a truly spectacular day marked by some superb cricket. Preston made an appearance this time along with a new South C team.
All group matches went as expected. There were no real upsets at this stage. The second round was where things started getting more serious. Finchley A ended APC's dream, East A staged a nail-biting win over South A, Harrow A saw off their 'B' team and Leicester B caused the shock of the tournament by beating their stronger 'A' team. One of the most intriguing matches was played between India Sevaks A and East A. India Sevaks looked comfortable but the game turned on its head in the last over and East progressed to the semi-final where they were comfortably beaten by Finchley A. The other semi-final was an extremely one-sided contest. Harrow A beat Leicester B with a 150-run winning margin.
The final promised to be a true spectacle between Finchley A and Harrow A, a repeat of last year's final. Both teams were focused. There was nothing to separate the two sides. They both matched each other all the way. Bhavesh, Nirmal and Amar produced some great shots and took the score to 146 for Harrow A. Now it was Finchley's turn. The opening pair of Shyam and Tarun really put pressure on Harrow, scoring 40 runs from 2 overs. But Finchley lost wickets at the vital time. Hirendra and Yagnesh produced a late flurry of shots but it wasn't enough. Harrow ended victorious by merely 2 runs.
There was also some wonderful individual display on show. The best bowler was Devang Amin from Harrow A; the best batsman was Hitesh Patel from East A.