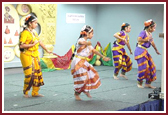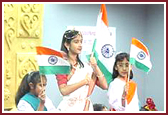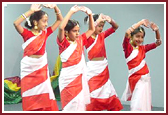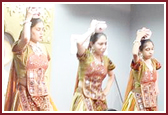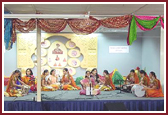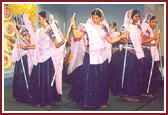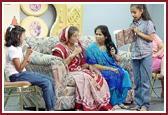 July 28 2001, Saturday, San Jose, CA: Special decennial program by Ladies wing
In 1991 H.D.H. Pramukh Swami Maharaj inaugurated Shree Swaminarayan Mandir, in Milpitas, CA. Ladies Chapter celebrated the event with cultural programs and exhibition - titled "Essence Of The East". Melodious prayer - bhajans, several Indian classical dances, thought-provoking speech, informative presentations, and humorous plays enchanted the packed audience. Local bay area organizations also presented some items. Themes ranged from "In search of God", "The importance of Temple", to contemporary living.
The Kishori Mandal depicted the charm and beauty of an Indian village woman in a graceful dance ballet. The highlight of the day was a breathtaking performance by the Balika Mandal in a series of folk and classical dances titled "Tapestry of Indian dances". It provided a glimpse of the rich culture and diversity of music,language, dance and costumes in India by covering states from the North, East, South and West. A play titled "Chabarda.com", had the entire audience break into laughter. This play portrayed how the Gujarati language can be transformed into a comedy of errors by children who are born and raised here - in America.
All Ladies chapters of BAPS in California, and several other leading socio-religious local organizations supported and participated in this unique event. An informative exhibition focusing on Hinduism was displayed throughout the event. Representatives of more than six spiritual and social organizations graced the occasion. Two local newspapers namely "India West" and "India Post" also covered the event. At the end, mementos were awarded to the participants.