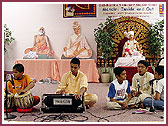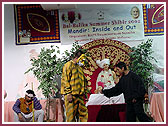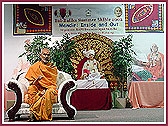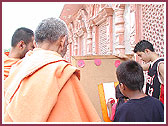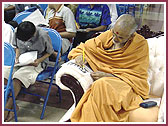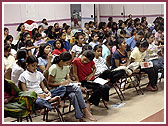 Thursday, October 31, 2002: Bal-Balika Summer Shibir 2002
Just as many Christian children might go to Bible Camp over the summer, many Indian children in our community arrived at the Edison Swaminarayan Temple to learn more about their own religion and culture. Under the guidance of an executive priest, Pujya Mahant Swami, the children were able to grasp a fundamental concept in our Hindu religion which is that the soul is more important than the mind and body. It was explained to them that, we as Hindus need to break the never ending cycle of birth and death. In order to escape this process, we need to do good deeds so that we can leave this cycle and join God in his humble abode. Thus, this session concentrated on elevating their soul to a divine level.

The children began to arrive at the temple on Thursday, July 11th, 2002. They were then registered, ate dinner, and assigned to their respective lodging areas. After a good nightís rest they would come to the temple and sit in their sessions according to their grade level. The sessions consisted of different speeches which focused on illustrating the process of how to attach their inner soul with God. In order to accomplish such a feat, their soul have to be pure and then only can they attain Heaven, or Godís abode. Amongst these sessions, the kids had fun engrossing themselves in various hands-on activities and other types of games.
Saturday, July 13, 2002, was a day which everybody was anticipating. An extensively planned out carnival was set up for the kidsí enjoyment. The carnival consisted of numerous games and activities which ranged from a simple football throw to a dunk tank. Amongst these games, a popcorn, cotton candy, snow cone, and drink stand were strategically set up throughout the area. After engaging themselves for four hours in the carnival, rest of the day was spent playing various indoor games. Even though the kidsí had a fun-filled day, they still had an evening session in order to calm their minds down. During this session the kidsí were assigned to different tasks according to their age. The older kids spent their time in a debate while the younger kids were busy putting together a puzzle of idols as well as different Indian temples which have been built throughout the world.