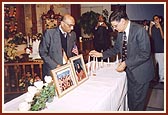 Father of Kalpana Chawla lights a candle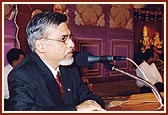 Dr. Lulla giving a slide presentation on the late Dr. Kalpana Chawla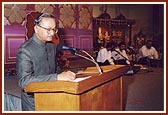 CGI of India praises Kalpana Chawla

Praises and Prayers for the Columbia Astronauts
The BAPS-Shri Swaminarayan Mandir organized a special memorial prayer meeting on behalf of all the members of the Indo-American community on Saturday, February 8, for the seven brilliant astronauts who died tragically aboard the space shuttle Columbia on February 1. The Hon. Consul General of India Mr. S.R. Tayal along with his wife Ms. Kusum Tayal, Dr. Kamlesh Lulla, Chief Scientist for Earth observations at NASA and Mr. Banarasilal Chawla, father of the Indian-born astronaut Dr. Kalpana Chawla attended the prayer meeting. Members of several Indian organizations in the Greater Houston area also attended the prayer meeting and paid their homage to the astronauts.
Mr. Pinakin Jaradi of BAPS stated, "Param Pujya Pramukh Swami Maharaj, saints and members of BAPS have all prayed so that the souls of the astronauts attain eternal peace and their families find strength and courage to face this tragic loss." Dr. Kamlesh Lulla then paid glowing tributes to Dr. Kalpana Chawla, popularly known as "KC" at NASA. He made a slide presentation on "KC" which covered her training as an astronaut candidate, her two flights into space and her observations from space. He recalled, "She was an excellent scientist and an avid pilot that every shuttle commander wanted on his crew." Dr. Lulla said that she was a karmayogi with the gift of goddess Saraswati. In his eulogy, Hon. Consul General Mr. Tayal said, "She has done both India, the country of her birth, and America her adopted country proud." He added, "Dr. Chawla symbolized the intrepid heights to which the human spirit can soar."
Melodious bhajans in Hindi were sung by the youths of BAPS. This was followed by a solemn ceremony with the lighting of seven candles, one for each astronaut, by Mr. Banarsilal Chawla, Hon. Consul General and his wife and Dr. Lulla, amidst the chanting of the Shanti Paath.