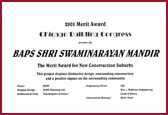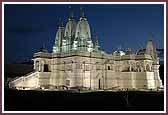 Chicago Mandir Moods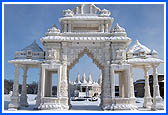 Winter Moods Photo Gallery


The BAPS Shree Swaminarayan Mandir in Chicago has been the proud recipient of the "Best Building Suburb" award by the Chicago Building Congress (CBC).
Established in 1939, the CBC plays a significant role in serving Chicago's dynamic building industry. It not only represents, but brings together a diverse group of professionals from the building industry, including builders, architects, designers, engineers, consultants, trade unions and even some banks servicing the industry.
In 1956, it started a Merit Award Scheme to honor outstanding building projects in greater Chicago area. The awards fall into four categories: Best Building Chicago, Best Building Suburbs, Best Building Rehab and Best Building under $10million. Awards' decision is based on a vote by a panel of 16 judges.
For 49th Annual Award of 2005, there were a total of 49 contenders, with four finalists in the "Best Building Suburb" award category. Competition to be the recipient of this award was intense between the finalists. They consisted of Avante Center for Science - Health & Emerging Technologies at W. R. Harper College, BAPS Shree Swaminarayan Mandir - Bartlett, Bolingbrook High School and Willow creek Community Church.
Selection criteria for the "Best Building Suburb" award include the social and engineering impact to the local community. The BAPS Shree Swaminarayan Mandir with its blend of ancient and modern design engineering techniques, supported by its very active community service and family based programs was described as having a "significant positive impact on the neighboring community". This, in the opinion of the judges, made the mandir a very worthy recipient of the "Best Building Suburb".