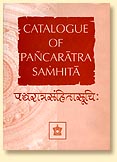 A unique, first-ever catalogue on the Pancaratra Samhita with inventories and details of 460 samhitas. This valuable catalogue in English will be immensely useful for foreign scholars, and the remarks in Sanskrit with its English version will be of great appeal to Indian scholars. By the blessings of Pramukh Swami Maharaj a tremendous effort was made by Sadhu Parampurushdas and Sadhu Shrutiprakashdas in preparing the catalogue.
ISBN: 81-7526-206-0
Pages: 182
Edited By: Sadhu Parampurushdas (Navya Vyakaranacharya),
Sadhu Shrutiprakashdas (Sarvadarshnacharya, Vidyavaridhi, Ph.D.)
Published by: © Swaminarayan Aksharpith, September 2002
Reviews on Catalogue of Pancaratra Samhita:
This publication is excellent in all ways. Both the saints have done an excellent work.
- Paramahansa Parivrajakacharya Shri Rangapriya Swami,
(a Vishishtadwaita scholar), Bangalore.

Today is indeed a very happy day for me. I am really fortunate that this Catalogue has been published during my lifetime. My services in the AARSH have been fruitful. No such research has been carried out since last many years. This work will provide a new direction for the research in the Pancharatra literature.
- Dr. K.K.A. Venkatacharya, Chennai,
Former Director of Anantacharya Indological Research Institute, Mumbai & AARSH, Akshardham, Gandhinagar.

To my great surprise and joy I found after my return from India that you had sent me the 'Catalogue of Pancaratra Samhita'. It represents, indeed, a great scholarly achievement. Every scholar working on sampradayas following the Pancaratra will welcome this publication. So far, academic studies have only touched the tip of this iceberg of material. I am sure that the publication will boost work on the problems of Pancaratra.
Speaking for myself, I may add that these days I am involved with 18th century attempts to harmonise vedic and Vaishnava positions in the kingdom of Jaipur. The debates surrounding this issue rely heavily on Pancaratric testimony. You can, therefore, easily imagine how pertinent the Catalogue is to this type of work.
I thank you therefore most warmly, congratulate you and the editors and may assure you that I will be an avid user of the Catalogue
- Monika Boehm-Tettelbach
Head, Dept. of Modern Indian Studies, South Asia Institute, University of Heidelberg,
IM Neuenheimer Feld 330, D-69120 Heidelberg, Germany

Congratulations on the successful completion of a work that I am sure will be of great value to scholars in the future.
- Raymond B. Williams
Lafollette Distinguished professor in the Humanities,
Emeritus Director,
Wabash Center for Teaching and Learning, Emeritus

I have received three copies of 'Catalogue of Pancaratra Samhita' [Amdavad : Swaminarayan Aksharpith, 2002-ISBN:81-7526-206-0], for which my many thanks. I am very glad to see that serious scholars like yourself have taken up studies of Pancaratra texts and that, further, you take such great pains to share your knowledge with other scholars through publication of your work. I am hopeful that this work will prove very valuable to scholars, present and future, in India and abroad.
- H. Daniel Smith
Professor Emeritus of Religion (Syracuse University)

I am sure that it will prove useful in the work of the Sanskrit Department.
- Professor J. L. Brockington
Secretary General, International Association of Sanskrit Studies,
Sanskrit School of Asian Studies,
7, Buccleuch Place,
Edinburgh EH9LW U.K.

I congratulate the authors for this beautiful scholarly work which will be of great use to researchers.
With kind regards.

- Dr. Francoise Mallison
Professor of Sorbonne University
F. 30170 Monoblet France

It is the nature of saints that they dedicate their resources and efforts for the wellbeing of others. AARSH, under the guidance of Maharaj Pramukh Swamiji, has undertaken projects of great academic value "Catalogue of Pancharatra Samhitas" so carefully and painstakingly prepared by Sadhu Parampurushdas and Sadhu Shrutiprakashdas is a wonderful gift of AARSH to the scholarly world. Please give my compliments to these scholars. This catalogue will be a very helpful tool for the scholars working in the field of Vaishnav Agama literature.
- Shrivatsa Goswami
Sri Caitanya Prema Samsthana
Vrindavan, U.P.

< Back