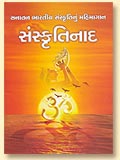 A pocket-sized booklet packed with information about India's culture, traditions, spirituality, beliefs, and contributions to the world.
Ideal for expanding youngsters' general knowledge about India.


ISBN: 978-81-7526-465-6
1st Edition: November 2010
Language: Gujarati
Pages: 64
Paperback
Published by: Swaminarayan Aksharpith, Ahmedabad - 4, INDIA.
Copyright: © 2010, Swaminarayan Aksharpith.
Available at all BAPS centers in India, UK, USA, Australia & E. Africa.
< Back