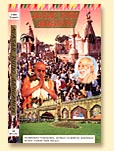 A remarkable 35-day mammoth festival commemorating the birth centenary of H.D.H. Yogiji Maharaj was celebrated in Gadhinagar between 29th Oct-2nd Dec. 1992. Under the inspiration and blessings of H.D.H. Pramukh Swami Maharaj, 17,000 volunteers trasformed a 180 acres of barren land into a spiritual oasis called Swaminarayan Nagar. The spiritual township comprised of five ornate archways, two beautiful mandirs, an attractive children's theme park, a fascinating exhibition for youths, and a huge 150,000 sq.ft. assembly hall. As part of the Sanstha's ongoing social servives, a blood donation camp during the entire festival collected a world record 831,600 ccs of blood, a dowry-free mass marriage of and 50,000 parents and children took moral pledges. The assembly hall had an inspiring agenda of cultural programs, music concerts, conventions and enlightening programs for children, youths and women which attracted large audience.
The inauguration of Akshardham was the highlight of the celebration. The fabulous cultural complex dedicated to Bhagwan Swaminarayan showcases the perennial messages of Indian culture. It has been hailed by renowned saints and personalities as an unparalleled cultural complex.
We are happy to present the highlights of the Centenary Celebration in this video cassette.
Duration: 90 minutes
Produced by: Audio-Visual Department, BAPS
Published by: Swaminarayan Aksharpith, Amdavad - 4, INDIA.
Copyright: © Swaminarayan Aksharpith, Amdavad - 4, INDIA.
Available at all BAPS centers in India, UK, USA, Australia & E. Africa
< Back