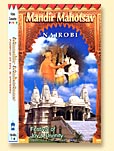 The Shri Swaminarayn Mandir in Nairobi is the first traditional Hindu Mandir on African soil. Comprising of sculpted yellow Jesalmer sandstone, Italian Carrara marble and intricate wood carvings, its breathtaking architecture is a marvel of human skill, achieved by the divine grace of Bhagwan Swaminarayan and Pujya Pramukh Swami Maharaj.
In this video, view the beautiful and spectacular architecture of the Mandir. Join Swamishri in prayer during the yagna for world peace. Witness the colorful and historic procession through the streets of Nairobi. Experience the joy of the devotees and the divinity of the atmosphere as Pujya Pramukh Swami Maharaj performs the traditional Vedic murti-pratishtha ceremony.
Duration: 100 minutes
Produced by: Audio-Visual Department, BAPS
Published by: Swaminarayan Aksharpith, Amdavad - 4, INDIA.
Copyright: © Swaminarayan Aksharpith, Amdavad - 4, INDIA.
Available at all BAPS centers in India, UK, USA, Australia & E. Africa
< Back