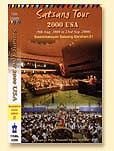 Satsang Tour 2000 USA

Pramukh Swami Maharaj's fast-moving Satsang Tour of America covered all the major centres and several new ones. This video cassette features highlights from 9 August to 23 September 2000, including Swamishri's historic visit to the united Nations and his address to over 1800 spiritual leadres in the UN General Assmbly Hall. There are also major highlights of the memorable and momentous National Convention 2000 at Perry, Georgia.
Swamishri's visits to Charlotte, Washington DC, Philadelphia, New York, Houston, Los Angeles, San Jose, Dallas and Birmingham are also featured.
Witness the dedication and devotion of the devotees as they honor Lord Harikrishna Maharaj; experience the divinity as Swamishri performs the shilanyas and murti-pratishtha ceremonies and enjoy the atmosphere of the celebrations as Swamishri's tireless touring bring divine joy to the hearts of thousands of devotees, young and old.
Duration: 115 minutes
Produced by: Audio-Visual Department, BAPS
Published by: Swaminarayan Aksharpith, Amdavad - 4, INDIA.
Copyright: © Swaminarayan Aksharpith, Amdavad - 4, INDIA.
Available at all BAPS centers in India, UK, USA, Australia & E. Africa
< Back