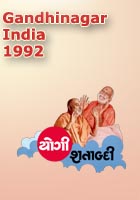 Gandhinagar, India 1992
Yogi Shatabdi
The Yogiji Maharaj Centenary Festival Reaches Out To Millions
| | |
| --- | --- |
| | This 35 day Festival, from 29th October to 2nd December, 1992, celebrated the Centenary of Yogiji Maharaj by creating an oasis of Cultural and Spiritual values. It had a worldwide appeal and a permanent impact, as it also marked the glorious inauguration of Akshardham - an amazing cultural centre, which is now an international attraction. |
Other Mega Festivals:
| | |
| --- | --- |
| | Mumbai,India,1995 |
| | Edison, USA,1991 |
| | London, UK,1985 |
| | Amdavad, India,1985 |
| | Amdavad, India,1981 |
Highlights & Achievements:
Held on 125 acres of land.
6 million visitors.
An amazing exhibition on 'Youth Energy' and 'Anti-addiction' attracted 1.1 million viewers. A special children's exhibition guided 814,314 children.
54,300 adults and 50,000 children quit addictions.
50,000 took vows of giving up other bad habits and bettering their lives.
450 million mantras were written, day and night, at the '24Hour House of Worship'.
Medical Services: 70,000 patients were given free services at the special skin, dental, E.N.T. and other medical Camps.
A highly successful blood donation camp that collected 831,600 cc of blood in only 35 days.
150 couples were married, without dowry.
5.2 million were served free meals!
A Yagna for World Peace was held.
'Children's Wonderland' - It left everyone wonderstruck to see 500 child-volunteers, running 23 departments, performing activities ranging from cultural dances to freeing people from addictions!
Conferences & Conventions: Human Integration Conference, Harijan Conference, Character Building Convention, Religion and Education Convention, Saints' Convention, Science & Spirituality Convention, De-addiction Convention, Women's Uplift Conference.
Felicitation Awards: to outstanding male and female achievers in social, scientific, industrial and cultural fields.
17,000 volunteers managed the festival.
145 youths were initiated as sadhus (saints).