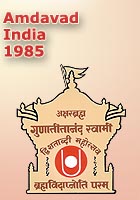 Other Mega Festivals:
| | |
| --- | --- |
| | Mumbai,India,1995 |
| | Gandhinagar, India,1992 |
| | Edison, USA,1991 |
| | Amdavad, India,1981 |
| | London, UK,1985 |
BAPS International Festival, 1985 India:

From 22 October to 19 December 1985 the birth bicentenary of Gunatitanand Swami, the spiritual successor of Bhagwan Swaminarayan, was celebrated in Amdavad, Gujarat. The two month long festival, which reflected the life and message of Gunatitanand Swami, featured the International Convention for Better Living. Luminaries like His Holiness Dalai Lama, the President of India, and leaders of other faiths and ideologies graced the event.




Highlights & Achievements:
Over 8 million visitors from all over the globe availed of its benefits.

200 acres of arresting landscapes and fountains, 3 towering mandirs replicas, 3 archways, 20 spots, children's park and shopping arcades created a dreamlike township enveloped in a morally and spiritually rich atmosphere.

A startling volunteer workforce of 15,000 young men and women was activated.

12,000 people quit addictions, 10,500 children and adults pledged to give up evil habits like swearing, lying, child abuse or wife battering.

The Exhibition–'Vision of Life' revealed the blessings of a good life and the evils of a bad life.

Days of Interfaith Harmony brought Hindus, Christians, Muslims, Buddhists, Jains and followers of other religions under a common canopy in a loving union.

Philosophical conferences and prayers for universal peace were held.

A record collection of 620,000 cc of blood in just 59 days at our blood camps.

Over 75,000 patients were treated at 25 free medical camps.
Selected pictures of this festival are available in Photo Gallery.