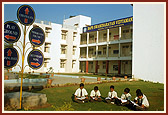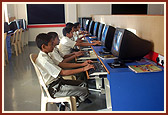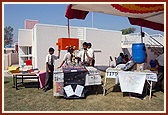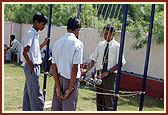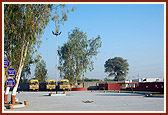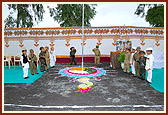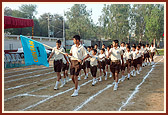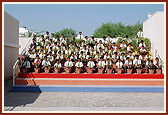 Education Facilities
Standards: Currently, the School offers education from Nursery to Standard VIII. By 2010 it will offer schooling up to Standard XII (Science & Commerce).

Medium: It is an English Medium School for boys only.

Timings: 1. 8:00 to 11:30 a.m. for Nursery, Jr. KG & Sr. KG.
2. 8:00 a.m. to 1:30 p.m. for Std I to IX

Curriculum: Affiliated with Gujarat Board of Secondary Education; also books of NCERT & ICSE level are used to prepare students for competitive exams.

Co-Curricular Activities: Indoor & outdoor games facilities, karate, clay modeling, dance, music, art & crafts, etc. Some of our students have been selected at state & national levels in volleyball and handball. Some have been selected to go for further training in karate to the UK.

Computer Lab: A well-equipped Computer Lab supervised by trained staff.

Science & Biology Lab: Physics, Chemistry and Biology labs, equipped with abundant apparatus, charts, specimen, models offers hands-on practical experience.

Central Library: A Central Library furnished with over 15,000 books, journals, periodicals,
encyclopaedias, biographies of great scientists, leaders and other inspiring and informative publications in English, Gujarati and Hindi.

Drawing , Art & Craft facilities are also available for students to nurture their latent skills and talents.

Audio Visual Lab: Entertaining audio-video educational aids to support learning in core subjects as well as religion, culture, Vedic science, general knowledge, etc.

Cultural Activities: Through school gatherings, Annual Sports Day and cultural celebrations students get an open platform to exhibit their talents, develop as public speakers and overcome stage fear.

Vast Playing Fields: The school has large playgrounds for outdoor games such as cricket, football, volleyball, kho-kho, etc. Physical fitness is very carefully monitored. Routine medical check-ups are mandatory.

Indoor Facilities: Students enjoy playing indoor games like carom, chess, table tennis, etc.

Amphitheater: An open-air theater for puppet shows, fancy dress competitions, celebration of Independence & Republic Days, and other programs.

Science Park: It is said, "Seeing is believing." More than 25 full-scale interactive displays are installed to teach the fundamentals of science, such as, gravitational force, air-cushion to cut down friction, sound waves, centrifugal force, Pythagoras' theorem, kinetic energy, etc.

Transportation: A fleet of school buses and vans are available for day students from nearby towns and villages.

Periodical Exams: Periodical exams help students and teachers to constantly monitor their progress and achievements.

Teacher-Parent Meetings: Regular meetings between teachers and parents (on last Saturday of each month) provide student assessment and help in their progress. Feedback from parents is welcomed.

National Pride: On 26 January & 15 August, students celebrate Independence and Republic Day with great enthusiasm. Fancy Dress Competitions and debates are arranged on such occasions.

Festivals: Celebration of our Hindu Festivals like Janmashtmi, Holi-Dhuleti, Rath Yatra, Guru Purnima, Dashehra, Diwali, Raksha Bandhan, etc. are organized throughout the year. Students learn the history and traditions behind these festivals.

Annual & Sports Day: The Annual Sports Day is held every December. Similarly the School's Founder's Day is celebrated on 6 February every year.