Plot-245, East Vardhmanagar,

Swaminarayan Marg,

Nr. Middle Ring Rd,

Nagpur - 440 008,

Maharashtra, INDIA

Tel: 0712 - 279 0811, 279 0815

Fax: 0712 - 269 0823

Email:

bapsnagpur@yahoo.co.in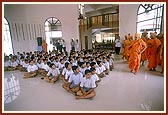 Located 850 km from Mumbai, Nagpur is Maharashtra's second capital city after Mumbai and a major city in the Vidarbh region. With a population of around 3 million, it won the Best City Award in 2001 for its excellent infrastructure.
Nagpur is also known as the 'orange city' because of its superb quality of oranges. Geographically, Nagpur is the center of India and is a major hub for transport, telecommunications and other essential infrastructure needs. Nagpur's cosmopolitan way of life attract people of many professional backgrounds and as a result, there is a continuing demand for high quality education and other requirements and amenities.


Twenty years ago, BAPS Satsang in Nagpur was inaugurated through the inspiration of HDH Pramukh Swami Maharaj. Through the efforts of Swamishri, senior sadhus and devotees the congregation in Nagpur steadily grew in strength. A Hari Mandir was soon inaugurated by Swamishri. And then the permanent presence of sadhus in Nagpur added momentum to the various socio-spiritual activities of BAPS Swaminarayan Sanstha. Since June 1997, the Swaminarayan School project has been in operation for the benefit of hundreds of children.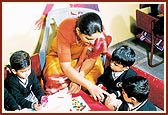 BAPS has been active successfully in the field of education for almost 40 years. This experience has been brought to Nagpur to cater for the growing need of high quality, value-based education. BAPS has always sought to educate both the mind and the spirit. For its only when character is instilled in children that their academic achievements shine out.
We also encourage children to develop their talent in arts, crafts, music, sports, etc. by providing suitable arrangements.
Hence, BAPS education has been highly successful over the past four decades in producing brilliant, talented children. The BAPS Swaminarayan schools inspire values, academic excellence, health awareness, sports, technology, global understanding, communication, etc. and thus offer their services to their family, religion, society and country.
Values
To develop the individual by inculcating universal human values of love, kindness, devotion and service before individual self.
To build self-esteem and confidence through caring.
Academic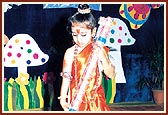 To integrate para vidya with apara vidya, and help shape the student into a complete individual. A synthesis of both should enable a holistic growth of the individual.
To guide the student to be self-motivated and an independent lifelong learner.
Health
To appreciate the importance of personal health, hygiene and fitness.
Sports
To understand and practice the qualities of discipline, teamwork and fairness on the sports field.
Technology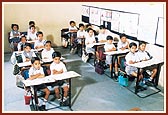 To combine the best and most imaginative of modern teaching methods with an emphasis on effective usage with ethics.
Global Understanding
To relate their own reality to that of other cultures and world affairs, and develop an appreciation of the advantages and disadvantages of global interdependence.
Communication
To develop skills of communication, critical thinking, reasoning and problem solving.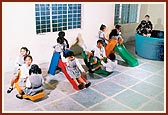 We believe that a child is an individual with his own learning styles and capabilities. The child needs an ideal environment to absorb positive attitudes and values to attain full potential. The Swaminarayan School gives special emphasis on factors that influence thought and behavior through novel and essential means.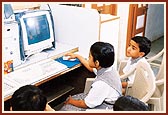 The Swaminarayan School at Nagpur was inaugurated by HDH Pramukh Swami Maharaj on 22 June 1997. This residential day school began with 215 students in the nursery and kindergarten classes of the Pre-Primary School.
Since then, with the commencement of the Primary School & high school the student strength has grown to 1,500 in 2009.
The Swaminarayan School provides an English-medium education from nursery level up to the twelve standard.
The school employs experienced, qualified teachers, whose teaching standards are continually updated through special training programs. Thus, in a relatively short period of time, the school has established a reputation for high quality education. So, with the increasing demand for admission a blueprint for a state-of-the-art premise has been made.


With the steady growth of the school, education upto standard 12 will be provided. At present the existing school is registered with the Maharashtra board, but the future plan is to affiliate it with the CBSE. To cater for classes from the nursery level to standard 12, the new school has been built on a 95,000 sq.ft. site, with 55,000 sq.ft. of buildings. Many facilities will be incorporated, including: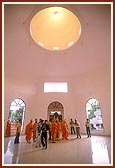 Residential facility from Std. 4
Auditorium
Computer labs
Physic, Biology and Chemistry labs
Library
Play areas
Health club
Staff and administrative offices

Extra -curricular activities will include:
Yoga classes
Karate classes
Sketing classes
Handicraft classes
Traditional dance classes
Personality development classes
Summer vacation camps
Music classes

Special celebrations will be held to mark religious festivals, such as, Ram Navami, Janmashtami, Diwali, Guru Purnima, etc ... to educate children about India's glorious tradition and culture.

The ground breaking ceremony for the additional school complex was performed by HDH Pramukh Swami Maharaj on 12 April 2004.

There has been an urgent demand from parents for a residential English medium school. Accordingly, residential facilities for students of Standards |V, V, VI and VII have been organized from the start of the academic year, June 2004. Parents of these students have expressed great satisfaction regarding the overall development of their children.

In addition to parental care and attention for a child's all round development, community living in a hostel also plays as important role in maiking a child self reliant, competent and confident.